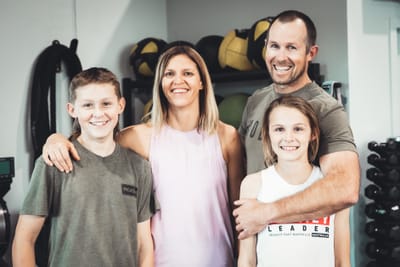 At CrossFit Sapphire, we are more than just gym equipment. We are a community of coaches and clients who support each other every step of the way in achieving their goals.
We are a family based business that has been operating in one form or another the Bega Valley since Kim and Clinton moved here in 2006. Kim grew up in Bemboka, and when she returned to Bega after living in Wollongong and Canberra, Kim started Swift Health & Fitness, which she then sold when she and Clinton had their first child Kai. Kim worked in Merimbula gyms part time in the early years of looking after Kai and then Arly, reopening a facility for Active Exercise Physiology in Bega in 2015. Over the first 12 months of the business being open, Kim, Clinton, and their new training buddy Alana found CrossFit, and in 2016 added CrossFit Sapphire to the business. As three people who had always loved competitive sport, finding CrossFit fueled a new competitive fire that we have transferred across to our now many CrossFit athletes as well as our general Active training clients. In 2023, to better match the training style and services we have grown to offer, we rebranded the business from Active EP to CrossFit Sapphire.
At CrossFit Sapphire we believe in the power of community. You may join as an individual but you will quickly become one of our crew, training together and supporing each other as new friends. We believe in simply having a go at new things to the best of your ability, working on self improvement and we know that there is a form of movement that everyone can do.
Whether our clients come through in our rehabilitation sessions, junior sessions, general fitness sessions or competitions, we know that we are all working toward the same goal - being better than we were yesterday and remembering to put the word "yet" behind anything you think you can't do.
Located in North Bega, we offer CrossFit, Group Training, Exercise Physiology and Personal Training to the community of the Bega Valley.